---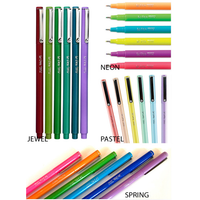 The LePen has a smooth writing micro-fine plastic point and a sleek barrel design. The ink is acid free and non-toxic. For monoline (not edged pen) handwriting. Available in carefully selected color combinations, each collection contains six color-coordinated pens:

JEWEL: Burgundy, Olive, Green, Teal, Oriental Blue, & Amethyst.

NEON: Orange, Green, Blue, Yellow, Violet, & Pink.

PASTEL: Coral Pink, Pastel Peach, Pastel Yellow, Peppermint, Pale Blue, & Wisteria.

SPRING: Pink, Orange, Light Green, Light Blue, Blue, & Lavender

Dimensions: 0.25" diameter x 5.25" length each — all 6 tied together with ribbon!